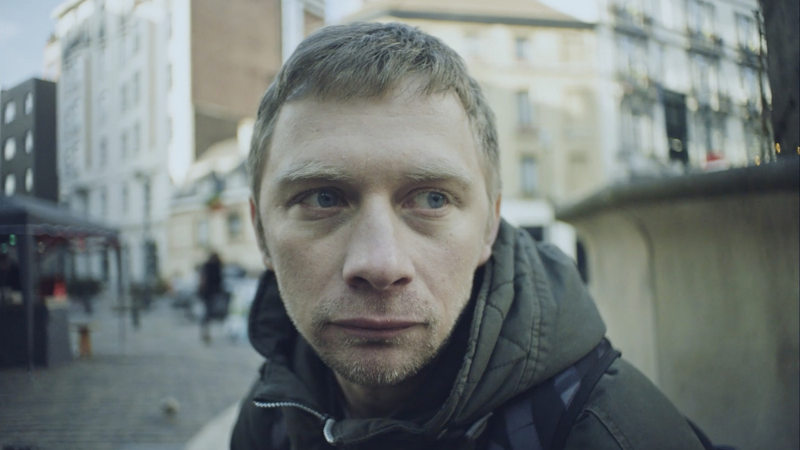 There is a fine line between sordid reality and dreamy realism in the solid, tense and deeply engaging social drama Oleg by Latvian Juris Kursietis. It could be the almost otherwordly face and the lost presence of its main actor (an equally subdued performance by Valentin Novopolskij); yet overall, Oleg is this mixture of still daring to dream in post-Dublin II unified Europe, with a theological framework (overworked) to use as a framing device.
The breathtaking zoom-in shot of the opening scene, with Oleg as a dot in icy Latvian surroundings in fetal position, gives the tone for the whole story. He is the lamb to be sacrificed, as his (not to be seen) granny tells him so.
In reality, Oleg is a butcher ('cuts meat') and has arrived at Ghent, Belgium on an alien's passport (a source of joke later on in the film), and a specific job description as a reason for his staying. Mishaps, lack of solidarity that his fellow workers exhibit, and direct accusations make Oleg lose his job and staying place. In a rather frenetic camera movement which follows him closely, Oleg now seeks a new beginning.
Here comes the unreliable, with bursts of violence but seemingly helpful Polish Andrzej (a tour-de-force turn from Dawid Ogrodnik), a small-time gangster who loves his teenage daughter, but actually maltreats his new girlfriend Malgosia (Anna Próchniak). The conflict with Andrzej is actually the heart of the film and the element that keeps the Latvian drama away from an all-encompassing Dardennes territory. What matters in Oleg is never social justice, but social confusion. Ethnicities, characters and languages parade and alternate in a kind but rather powerless Belgian environment.
With a color palette that is never inviting (except for night shots and Latvian forests), there is the right amount of tension and wrong twists and turns that Oleg takes to check out of his trap. A brief excursion to the Latvian community dinner in Brussels brings a fleeting relationship, but also cements that he has no help from his compatriots. The new Europe is an unknown field, where he has to choose if he is the hunted or the hunter.
One of the best scripted scenes in Oleg comes when the main character has to learn how to shoot in the open field, under the guidance of Andrzej. It is a point of failure and of no return. Screenwriter and director Juris Kursietis makes you care for this 'sacrificial lamb',  presenting him as neither too gullible nor too knowleadgeable; he could be any foreigner worker with a lot of dreams.
The theological framing of Oleg does not do the film justice, and feels forced for a character whose only real affection is his work and his granny. Yet Kursietis successfully mounts tension in a gripping drama of characters which won't stray away from its main target: to show that a European dreamer can be a contradiction in terms.
Vassilis Kroustallis
CREDITS:
Oleg, 2019 (1' 48'')
Director: Juris Kursietis Latvia, Lithuania, Belgium, France | Producer: Alise Gelze, Aija Berzina | Screenwriter: Juris Kursietis |  DoP: Bogumil Godfrejow  |  Editor: Matyas Veress |  Cast: Valentin Novopolskij, Dawid Ogrodnik, Anna Próchniak, Guna Zarina, Adam Szyszkowski | Production: asse Film, Iota Production, In Script, Arizona Productions